"January Feathers"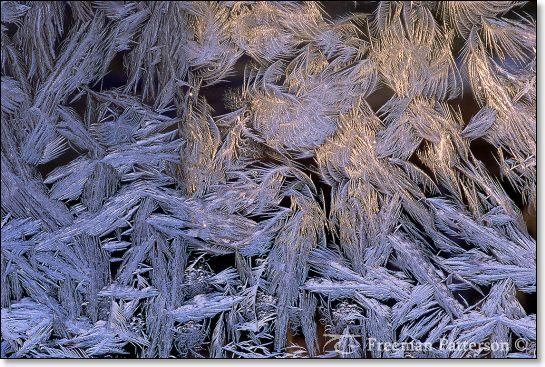 Back
Medium: Photography Produced on Watercolour Paper in the Giclée Process.
Edition Size: 100 Signed and Numbered With 10 Artist's Proofs
28" x 42": $1200.00
© 2008 Freeman Patterson
Next

Goethe once described times in his life when he had fallen asleep in tears, but in his dreams the most charming forms had come to console and cheer him, and he had arisen the next morning fresh and cheerful.
The Frosty window pane wasn't a dream, but its similarity to a very fine painting or tapestry is obvious, and its charming form transformed this morning. And, because the temperature remained below freezing, I was able to view it all day long.
The two-single pane windows in my house more than pay for the small heat loss by functioning as winter art exhibits. The display changes nearly every night.
Giclée Ordering Information

Prints | Biography | Artist Statement | Curriculum Vitae | Artists | Company | Contacts | Giclee Prints | Home

This website © 2008 The Guild - Publishers and Distributors of Fine Art Ltd.
Images and Photographs © 2008 the attributed Artist or Photographer.
All Rights Reserved.