"Communion"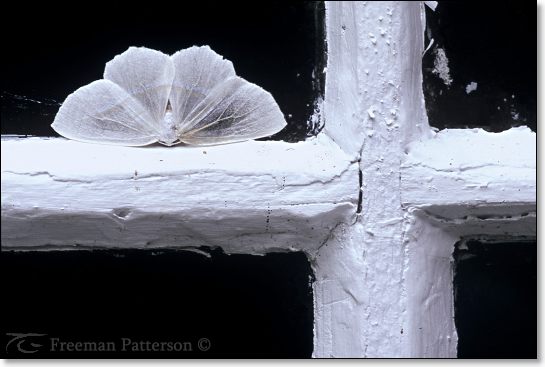 Back
Medium: Photography Produced on Watercolour Paper in the Giclée Process.
Edition Size: 100 Signed and Numbered With 10 Artist's Proofs
20" x 30": $600.00
© 2008 Freeman Patterson
Next

How does an insect know how to hide itself in full view of its prey? What puzzles me is not the fact of camouflage, but the making use of it. Who told this white moth to sit beside the white windowpane divider? And who or what told several gray moths to alight on the weathered cedar boards surrounding the window? It seems obvious to me that genes are involved, but that's about as far as I can get on my own.
Giclée Ordering Information

Prints | Biography | Artist Statement | Curriculum Vitae | Artists | Company | Contacts | Giclee Prints | Home

This website © 2008 The Guild - Publishers and Distributors of Fine Art Ltd.
Images and Photographs © 2008 the attributed Artist or Photographer.
All Rights Reserved.