"Autumn Glimpsed"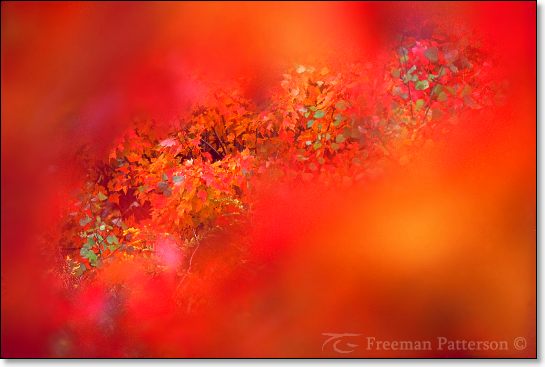 Back
Medium: Photography Produced on Watercolour Paper in the Giclée Process.
Edition Size: 100 Signed and Numbered With 10 Artist's Proofs
13¾" x 20½": $300.00
© 2008 Freeman Patterson
Next

When I was a small child I was forever running through tall grasses and low shrubs, so I became very familiar with glimpses of things. I've found that, as an adult, I appreciate not being told the whole story or shown the entire scene, but being allowed room for my imagination to wander. It's nice to have that part of being a child stay with me.
There are many days now when I use my camera to go poking through underbrush or plants in my garden, letting the leaves and flowers and spiders' webs and dewdrops appear and disappear almost by magic. In fact, the most exotic places in the entire world seem to be right around my house.
Giclée Ordering Information

Prints | Biography | Artist Statement | Curriculum Vitae | Artists | Company | Contacts | Giclee Prints | Home

This website © 2008 The Guild - Publishers and Distributors of Fine Art Ltd.
Images and Photographs © 2008 the attributed Artist or Photographer.
All Rights Reserved.